As you guys know I absolutely love Star Wars. In fact, the original trilogy are my favourite movies of all time. So today, I decided to share some Star Wars memes: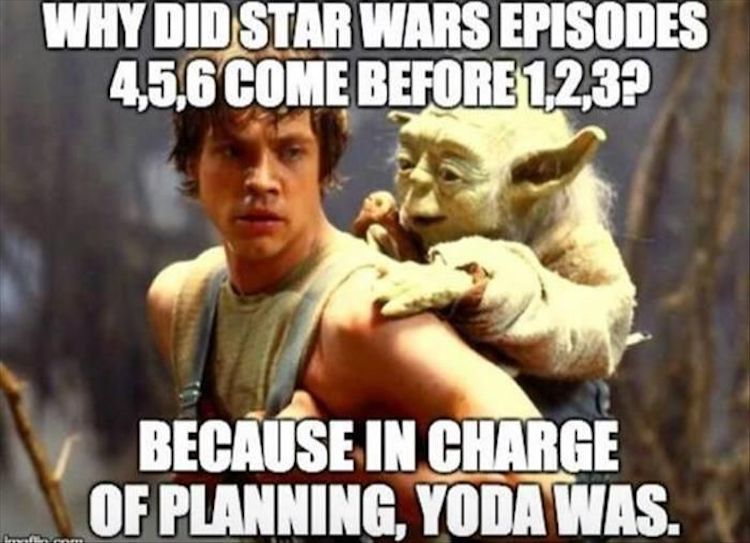 About Star Wars:
Star Wars is an American epic space opera multimedia franchise created by George Lucas, which began with the eponymous 1977 film and quickly became a worldwide pop-culture phenomenon. The franchise has been expanded into various films and other media. Including television series, video games, novels, comic books, theme park attractions, and themed areas, comprising an all-encompassing fictional universe.[c] In 2020, its total value was estimated at US$70 billion. And it is currently the fifth-highest-grossing media franchise of all time.
Source: https://en.wikipedia.org/wiki/Star_Wars
Disclaimer: None of the images used above on this post are not owned or are not the property of Lifesfinewhine. Lifesfinewhine does not claim or retain any rights to the above images. All rights remain with the original creators of the images or to the owners of these images. 
Are you a fan of Star Wars? Did you enjoy these Star Wars memes? Which is your favourite Star Wars Trilogy? Let me know in the comments below because I would love to hear from you. Or simply stop by and say hi!
For similar posts click here.
If you enjoyed this post don't forget to like, follow, share and comment!
Enjoyed this post? Then follow me on social media:
Twitter Instagram Pinterest LinkedIn HubPages
Email me on(guest posts welcome!): insomniacwithanaccent@gmail.com